Read biographies of feature guests for the 2017 Latina Trailblazers Networking Forum being held tomorrow August 23rd at Michigan Avenue's The Gwen Hotel Chicago! 
Hannah Fernandez, Founder & CEO, ROI Business Funding
Hannah Fernandez is the Founder and Chief Executive Officer of ROI Business Funding, a Chicago-based company that helps entrepreneurs and small business owners across the US and Canada get access to capital and provides them with technical assistance to become fundable.
She is a graduate of the University of Chicago and has more than a decade experience in management leadership, sales and marketing. Hannah seeks to inspire others to achieve their fullest human potential and live their highest purpose. Losing half of her team in a massive wave of layoffs at Pfizer in 2009 opened her eyes to the lack of job security in corporate America, and this seminal moment in her career journey fueled her drive to build a business, be her own boss, and be in a greater position to help others.
Hannah is the Chair of the National Latino Education Institute (NLEI) Business Leadership Council and volunteers as a Chicago Public Schools science fair judge at the Museum of Science & Industry. She serves on the Board of Directors of Mega Partnering and Top One Coaching as well as a member of the Young Entrepreneur Council. Hannah won several awards for entrepreneurship, including the Top One Coaching Entrepreneur of the Year Award. Hannah has appeared in WCIU-TV's You & Me This Morning, ABC 7, WTTW 11 etc, and she has been featured in USA Today, CBS, The Daily Herald, Yahoo! News, and other publications.
Elizabeth Florez, President, National Association of Hispanic Nurses - IL Chapter (NAHN)
Dr. Elizabeth Florez is an Assistant Professor at DePaul University's School of Nursing. She earned her PhD in Nursing Science from the University of Illinois at Chicago. Dr. Florez is the current President of the National Association of Hispanic Nurses-Illinois Chapter, where she focuses on supporting, mentoring, and increasing the number of Hispanic nurses and continuing community engagement within Latino communities. She is an active volunteer for the American Heart Association and is a national spokesperson for their Empowered to Serve campaign.
Dr. Florez has been honored with several awards including: Nueva Latina Estrella, Top 40 Under 40 Emerging Nurse Leaders, Mujere Destacada, and the American Heart Association Circle of Service Award. Through her nursing background, research agenda, and community involvement, Dr. Florez is aware of the issues that ethnic minorities and underserved communities face that impact their health. Dr. Florez has taken on many leadership roles within various organizations in an effort to share her expertise to help address health disparities, especially within the Latino community.
Maria Gonzalez Kronyak, Senior Director, Global Accounts, eMarketer
Maria Gonzalez Kronyak graduated from Drew University in Madison, NJ with a major in Sociology. She spent four years working for Univision's Distribution team and negotiated retransmission contracts with regional cable operators.
Now at eMarketer Maria's Account Management team empowers more than 1,200 companies with insights and research on digital marketing, media and eCommerce.
During her free time, she enjoys giving back to the community by supporting non profit organizations focused on improving the quality of students' education.
Maria Esther Lopez, Development Director, St. Augustine College
 Maria Esther Lopez is a long-time mission-driven leader who has served the Latino community in several capacities. She was recently appointed Director for Development at St. Augustine College, responsible for the college's resource development, community relations, government affairs and advocacy. St. Augustine College is an independent Latino institution of higher education that works with more than 5,000 students through adult education, workforce development and academic degree programs. Its founding charter is to
make higher education and its benefits accessible to a diverse student population through dual-language higher education. It is the only institution of its kind in the United States.
Contributing to the community and advocating on behalf of the Latino community is Maria's passion and she has served in a long list of boards and committees. At the national level that work included with the White House Initiative for Educational Excellence for Hispanic Americans-Partners in Education, the National Council for Community and Educational Partnerships, and she was the founding board secretary of the American STEM Alliance based in Texas. At the state level her service included with the Regional Transit Authority
Citizen Advisory Board, the board of the Latino Policy Forum and the Illinois Latino Family Commission.
Before arriving at St. Augustine College, Maria founded Maria Esther Lopez & Associates where she assisted
medium sized non-profits and small business address marketing and communication needs. The mission of
the business was to provide a corporate quality, sustainable, branding image at an affordable price. Prior to
that, Maria served as Director for External Affairs at El Valor, an organization that works to promote early
childhood education, support people with disabilities, strengthen families and develop leadership. Maria's
responsibilities at El Valor included resource development, media and marketing, government relations,
building construction project management, international relations, and the leadership programs.
Prior to joining the world of non-profits, Maria worked for CNA Insurance Institutional Markets, Miller-Pear
Communications, and Citibank's retail division. A daughter of hard working immigrant blue collar parents from
Mexico, Maria was born and raised in Chicago's Humboldt Park neighborhood. Maria obtained a Bachelor
Degree in Commerce at DePaul University, and completed a Master in Business Administration degree at
National-Louis University.
Lydia Ortiz, Latino Market Manager, New York Life
In her role as Latino Market Manager at New York Life Insurance Company, Lydia is responsible for developing Hispanic marketing, community relations, and talent acquisition strategies to serve the financial needs of the Latino community.
Lydia's expertise in multicultural marketing, brand management, and corporate communications includes previous leadership roles at Allstate Insurance Company, the United States Department of Commerce, and Avlon Industries (an international hair products manufacturer).
In her community involvement, Lydia has served as Los Angeles Chapter President and on the National Board of Directors of Prospanica (formerly the National Society of Hispanic MBAs), as well as, the boards of the Northwest (IL) Hispanic Chamber of Commerce and the University of Arizona Hispanic Alumni Association.
A native of Tucson, Arizona, Lydia holds a Master of Business Administration (MBA) degree from the University of
Arizona and a Master of International Management Studies from the University of Texas at Dallas.
Time is running out to register! Tickets will not be sold at the door.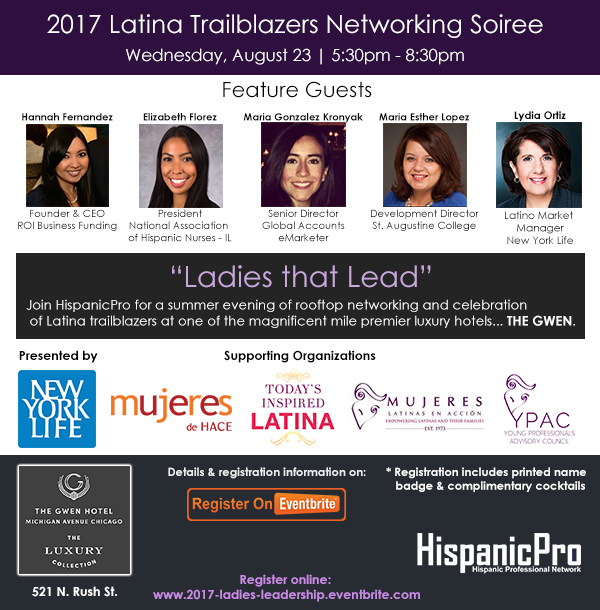 Men are welcome to attend. Tickets will not be sold at the door.